The Pets screen is accessible via the Dashboard, and the side menu. Expand the Animal Care menu and click on Pets.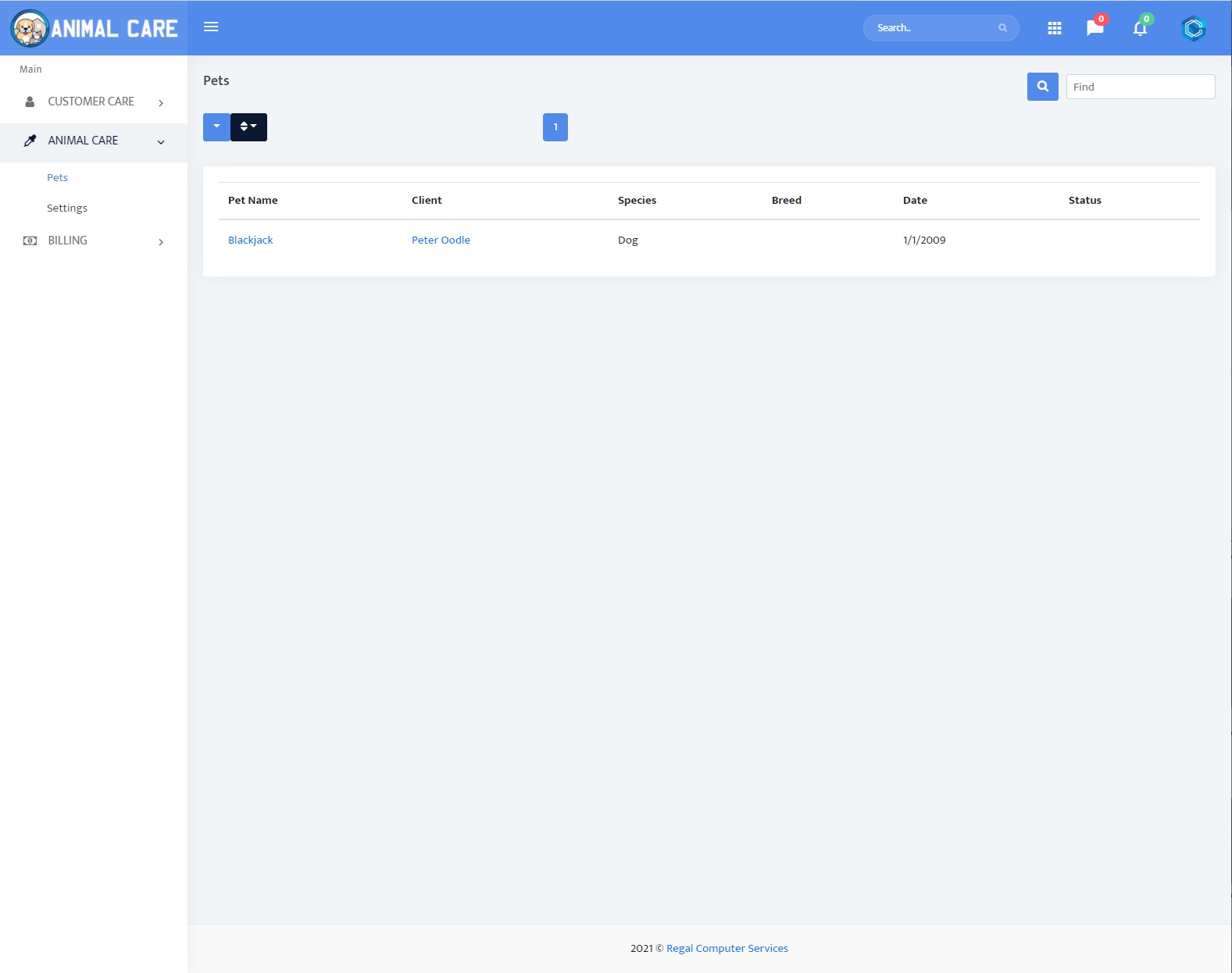 The pets screen presents a list of all of the pets entered into the system, which can be filtered, and sorted to suit your needs..
At the top of the screen you have a search feature on the right, and on the left you have two buttons to access more features relating to this screen.
The first button with one dropdown symbol allows you to:
New Pet - Create a new pet via a popup screen.
Favourites - Filter the list to show only customers that have been flagged as a "favourite" this is a way to access a priority list of customers quickly and easily.
My Pets - For companies with multiple employees a pet can be specifically assigned to an employee. The employee can then use the my pets button to view only the pets assigned to them.
Download CSV - A simple way to download a list of your pets for use in any program that can use CSV format such as word or excel.
View List - Use the screen in list mode, the default.
View Cards - use the screen in card mode.
All - Shows all pets (default)
Archived - Shows all archived pets.
Trash - Shows all pets that you have sent to the trash folder. These pets can still be restored until you choose to permanently delete them.
While the second button allows you to change the sorting setting for the screen to sort the data by name, client name, species and date.
If your business will not have a traditional client, you are encouraged to enter yourself as a client and all data will be stored as if you are the client.
Viewing a Pet
To view a pet you have created simply use the Pets screen and then click on the Pet Name if in list mode it will indicate it is clickable by showing up in a different colour OR the Open button if in card mode.
Prev: Navigating the Client Screen
Next: Adding Breeds/Species
Back