You may enjoy dealing with your clients on a day to day basis but sometimes for the simple tasks you might prefer the client to be able to do things themselves.
To that end Core Animal Care comes with a Client Portal system that allows your client limited access to update pet information, view historical information and view and pay invoices.
How to allow a customer Client Portal access?
By default a customer is not automatically granted access to the client portal.
To give access the following two tasks must be completed:
Client must have a valid email address.
Client must have a password entered on the security tab of the client screen.
If either of the above are not met then the client will not be able to login to the portal.
Once configured correctly you can use the paper airplane (send) drop down button on the client screen to send a "Client Portal" welcome email to the client.
The email will provide the link to the client portal https://coreanimalcare.com/client/login.asp (or a custom URL if one has been assigned to you) and the email address (from the client screen) and password (from the client security tab) to use to login.
At any time you can change the client email address and/or password to block the user from logging in.
What is different in the Client Portal?
The Client Portal is a stripped down version of the Core Animal Care interface, dedicated to your clients.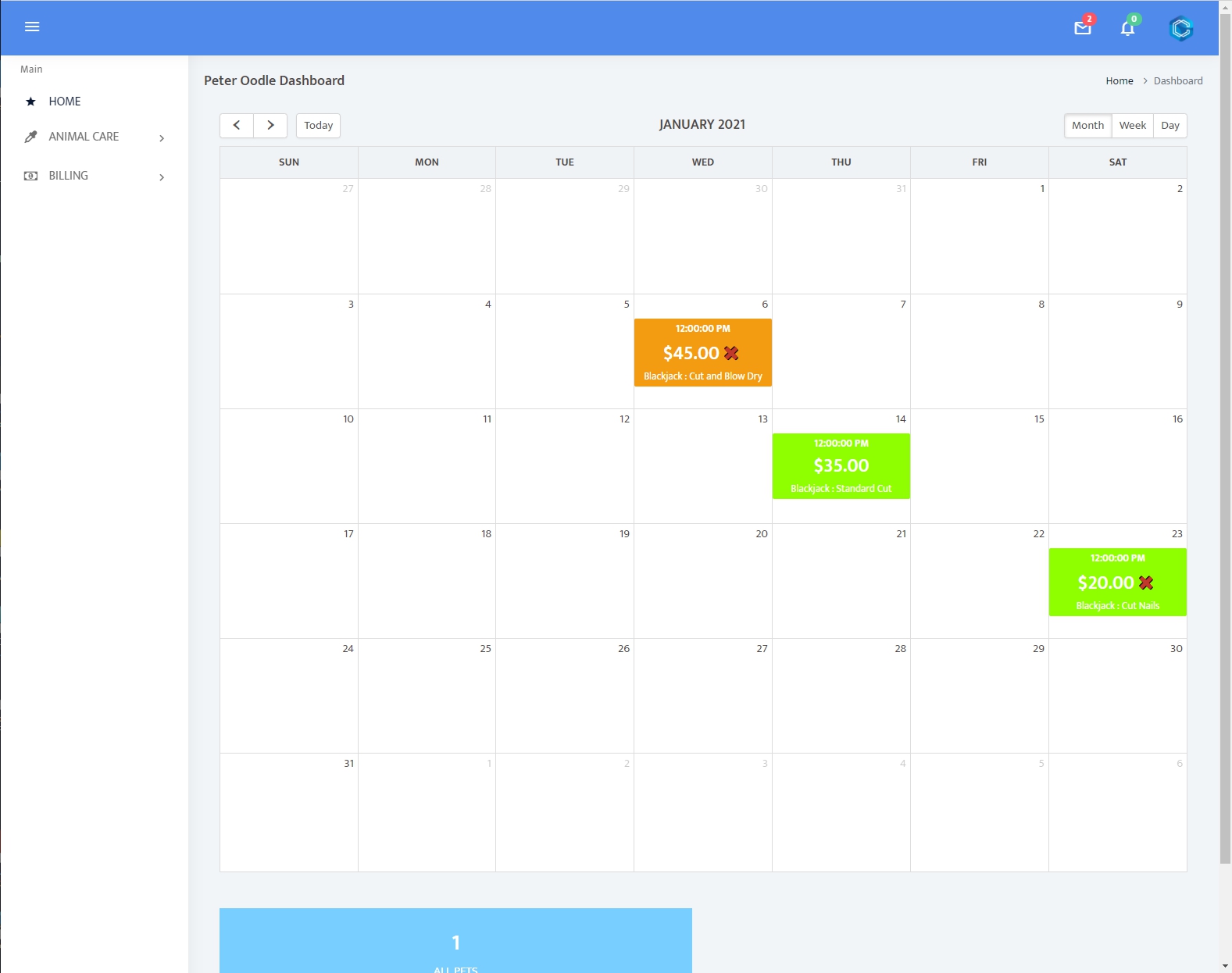 Only the essential features are provided:
Top navigation bar with access to Messages, Notifications and the Account Dropdown menu.
Left navigation bar with access to Pets and Billing.
Calendar with recent appointments and upcoming events.
Portal Pet Screen
Your client has access to a stripped down version of the Edit Pet screen, allowing them to edit the details of an existing pet.
Your client may not add a new pet, only you the "admin" can do that.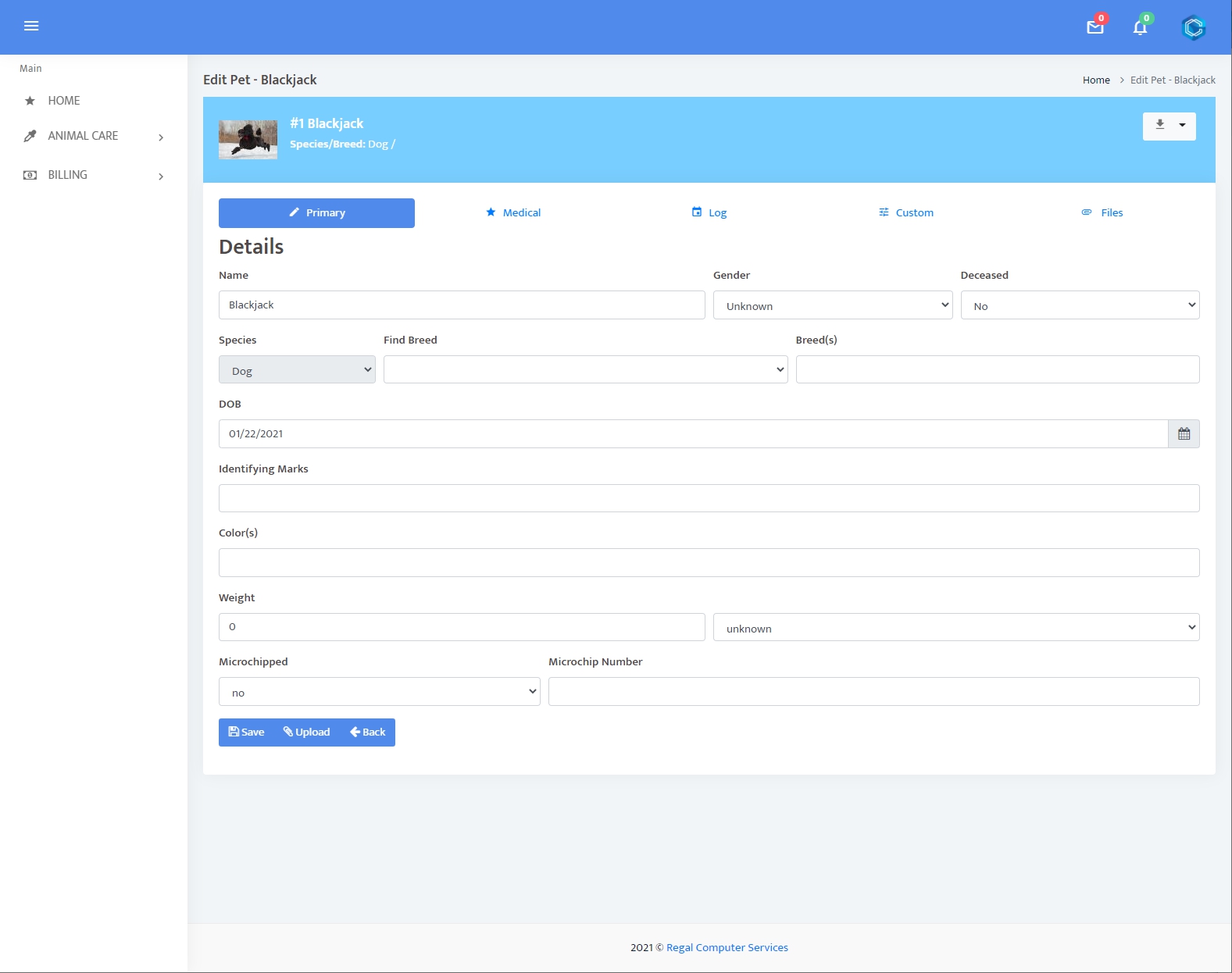 This screen is very similar to the admin side of the system.
Clients can use the:
Primary Tab - The basic information for the pet.
Medical Tab - The basic medical questions and answers.
Log Tab - A log of events and appointments relating to the clients pet.
Files Tab - To upload new files and view existing files. NOTE deletion of files is not possible by the client to prevent accidental deletion of something important.
In the top right corner is a download link allowing the Client to download a PDF copy of their pet information.
Billing
On the Billing screen the client can view a list of their invoices, and where appropriate make a payment on an invoice and also download a PDF copy of the invoice. This is done using the ... button on the right hand side of the screen.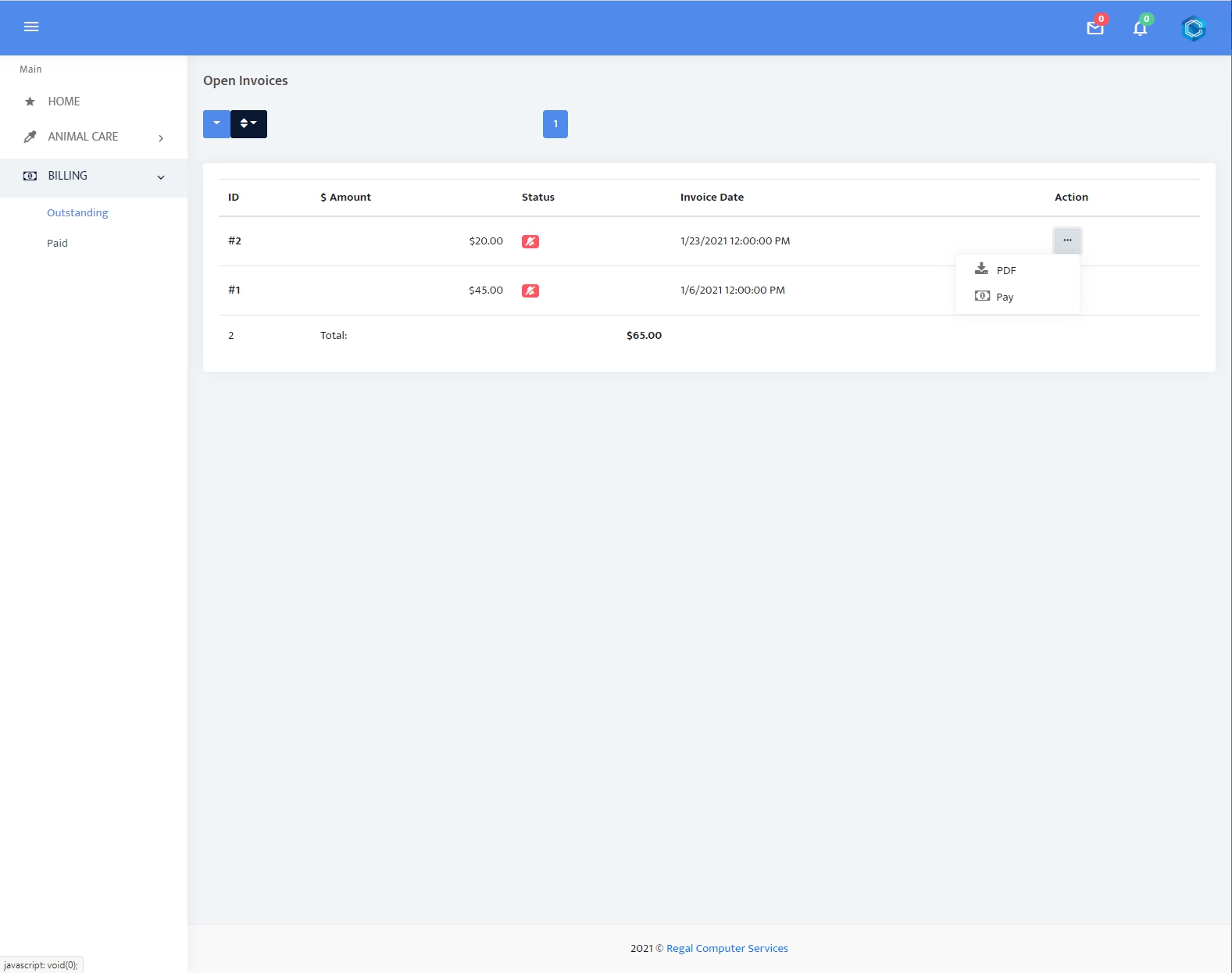 This screen is very similar to the admin side of the system.
For information to provide to your clients on how to operate the Client Portal please check this section of the website.
Prev: Client Management
Next: Scheduling
Back