Billing is also a part of Core Animal Care although it is entirely optional as to whether you use the built in Billing system or use a third party service to handle your billing.
How to generate an invoice?
There are several ways to generate an invoice.
From the Log tab of the Pet screen. All events that have been recorded for this pet are shown on that tab. If an invoice has not been generated for that event there is a green button to click which will generate one. Otherwise if an invoice has been created there is an edit button to make changes to the invoice.
From the BILLING menu, then choose Invoice. Using the blue dropdown arrow button choose New Invoice.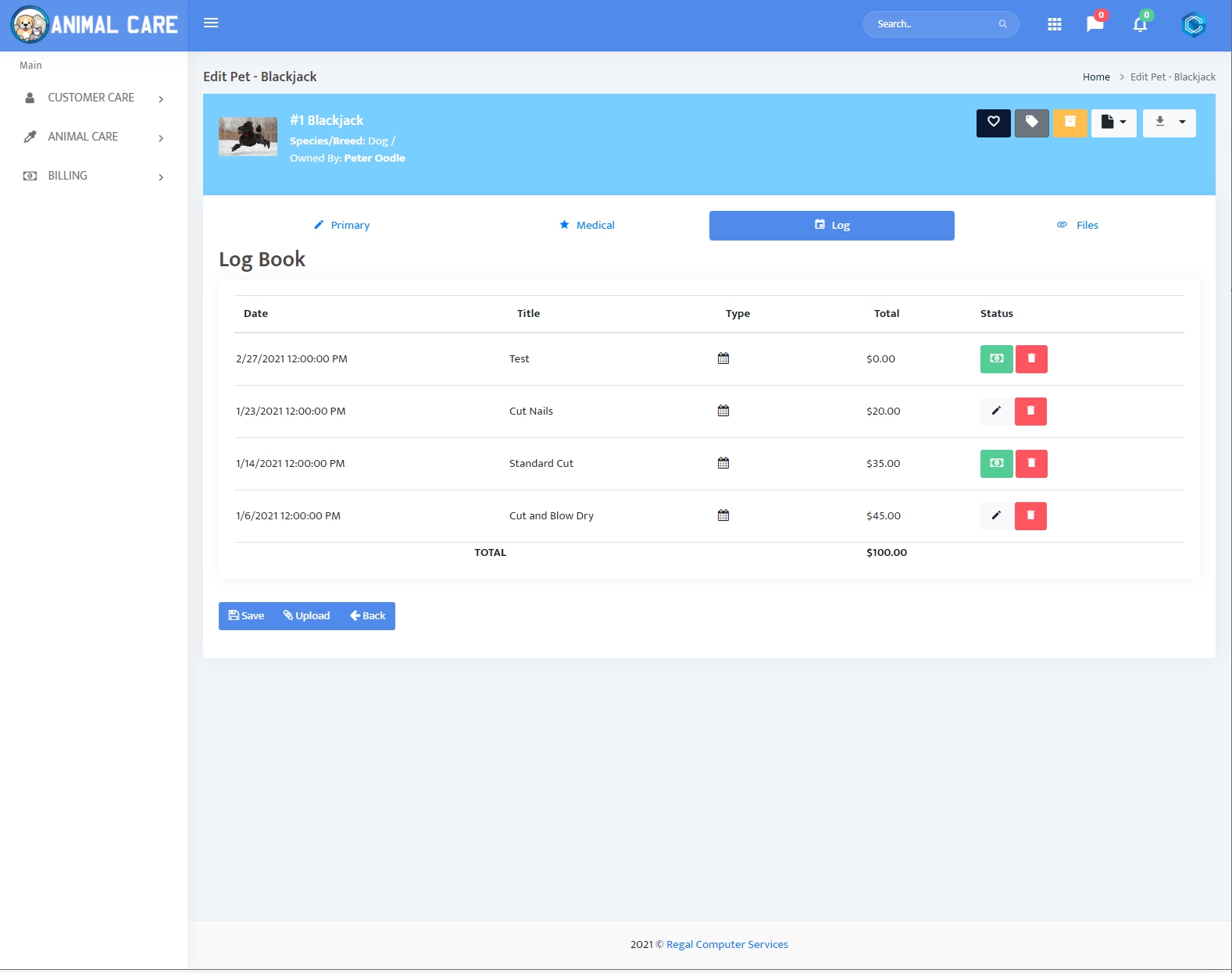 Using the Invoice Items tab you can add your expenses to the invoice. These can be "products" previously defined in the system or simply add anything and change the description, cost and quantity to match whatever you need it to.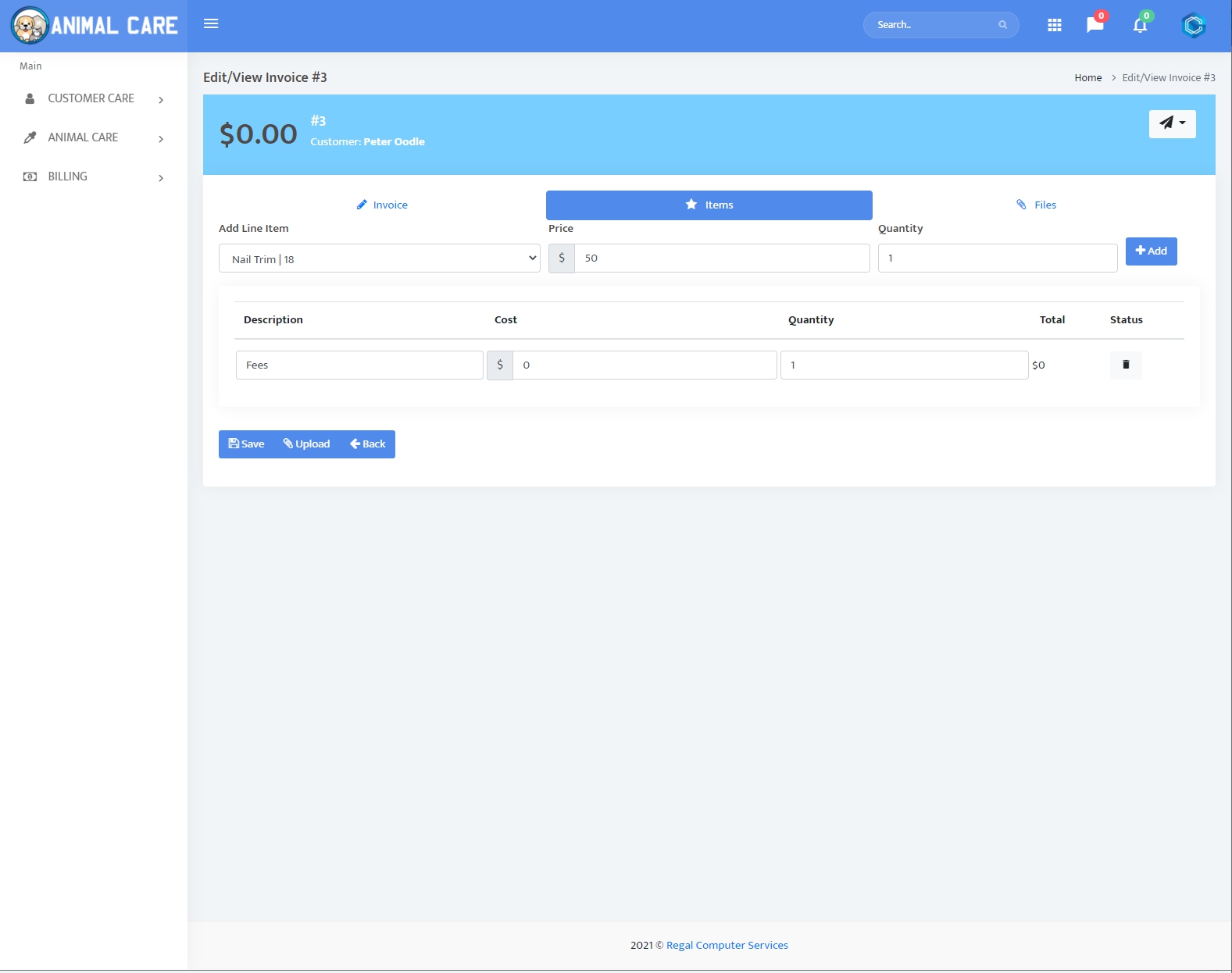 The first tab on the Invoice screen allows you to change some core pieces of information:
Date - The date the invoice was created on.
Client - Select your client from a pre-configured list of existing clients.
Tax % - If tax is applied to this invoice specify it here.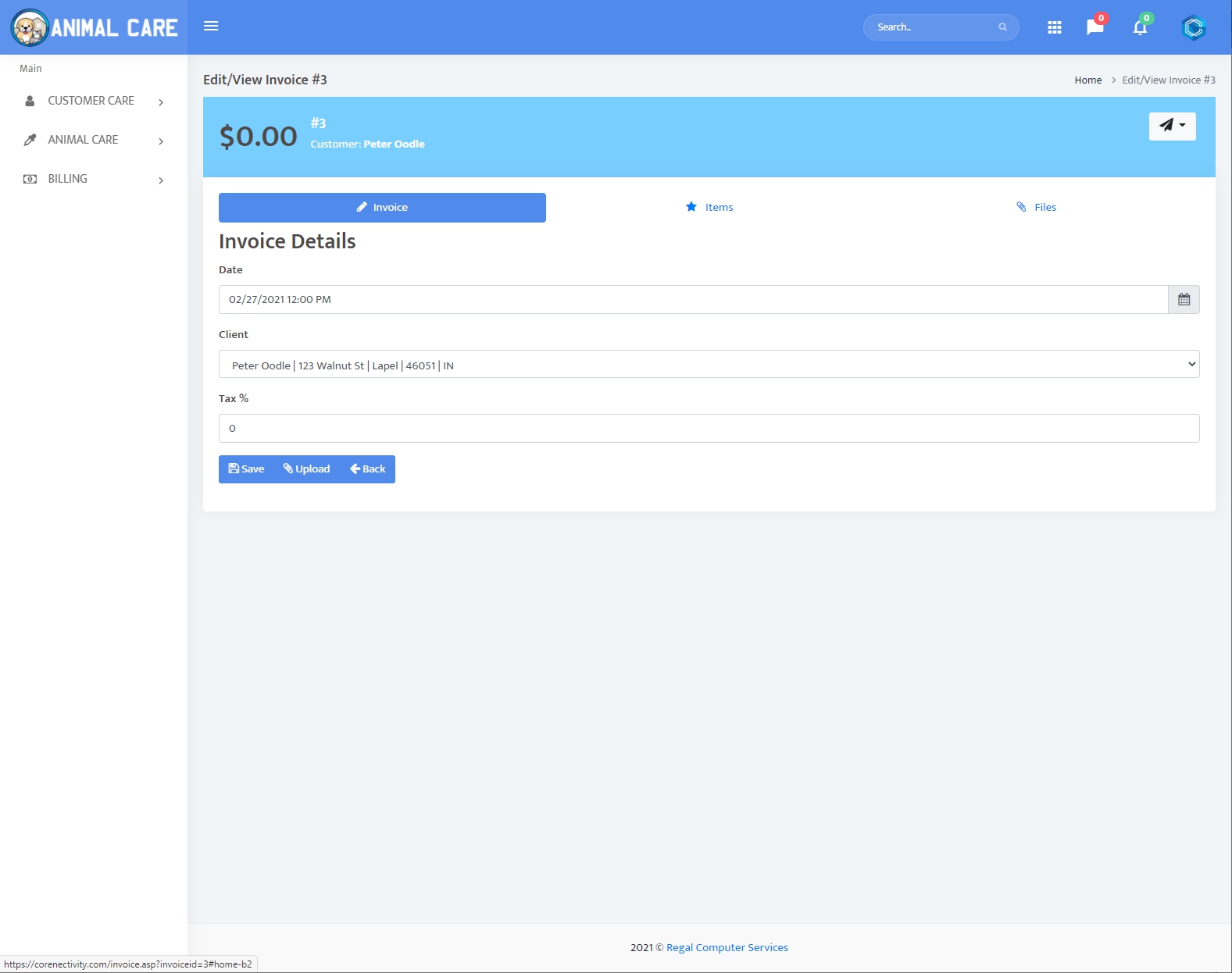 From the Billing menu then Invoices you can find all your existing invoices.
Using the blue arrow dropdown you can choose to:
Make a new Invoice - Create a new blank invoice and populate it with information.
Generate Recurring Invoices - Create invoices that are generated on a recurring basis. This would be invoices you previously billed with a month to month, quarterly or yearly status.
All - Shows all invoices regardless of state.
Open - Visit all invoices that are in the open state. This would usually be invoices that have either not been sent to the client or are otherwise not yet paid.
Closed - View all closed invoices. Typically an invoice is considered closed after it has been paid.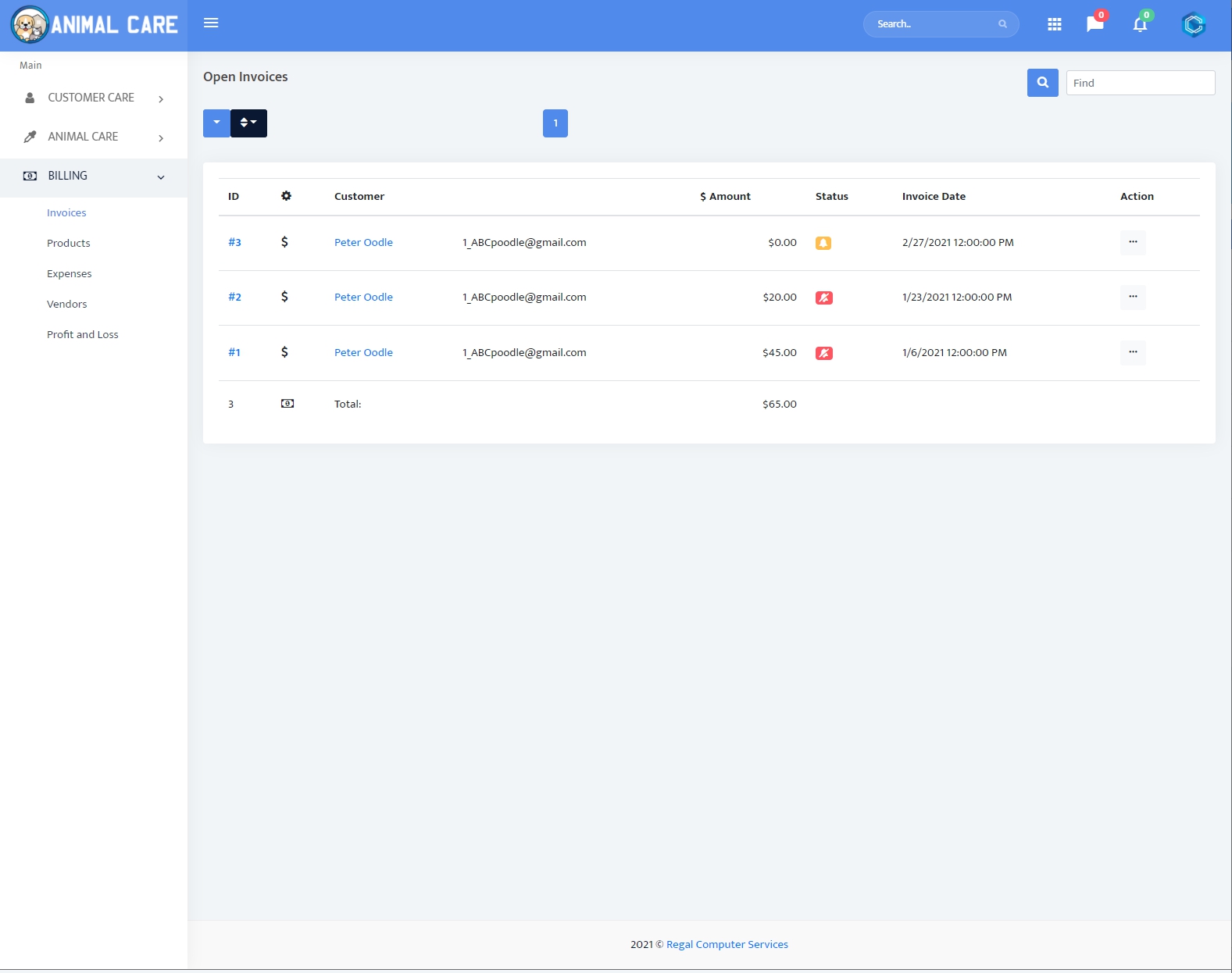 You can edit/view any existing invoice simply by clicking on the invoice # on the left side of the screen.
You can also view the client that the invoice belongs to by clicking on the client.
Finally on the far right next to each invoice is the action drop down which consists of the following options:
Edit - Edits the invoice.
PDF - Generates a PDF copy of the invoice.
Paid Check - Mark the invoice as closed and paid via check.
Paid Cash - Mark the invoice as closed and paid via Cash.
Take Payment - Allows you to take a payment using Stripe.
Paid CC - Mark the invoice as closed and paid via CC.
Paid PayPal - Mark the invoice as closed and paid via PayPal.
Send - Sends an automated email to the client reminding them to pay an invoice.
Delete - Deletes the invoice.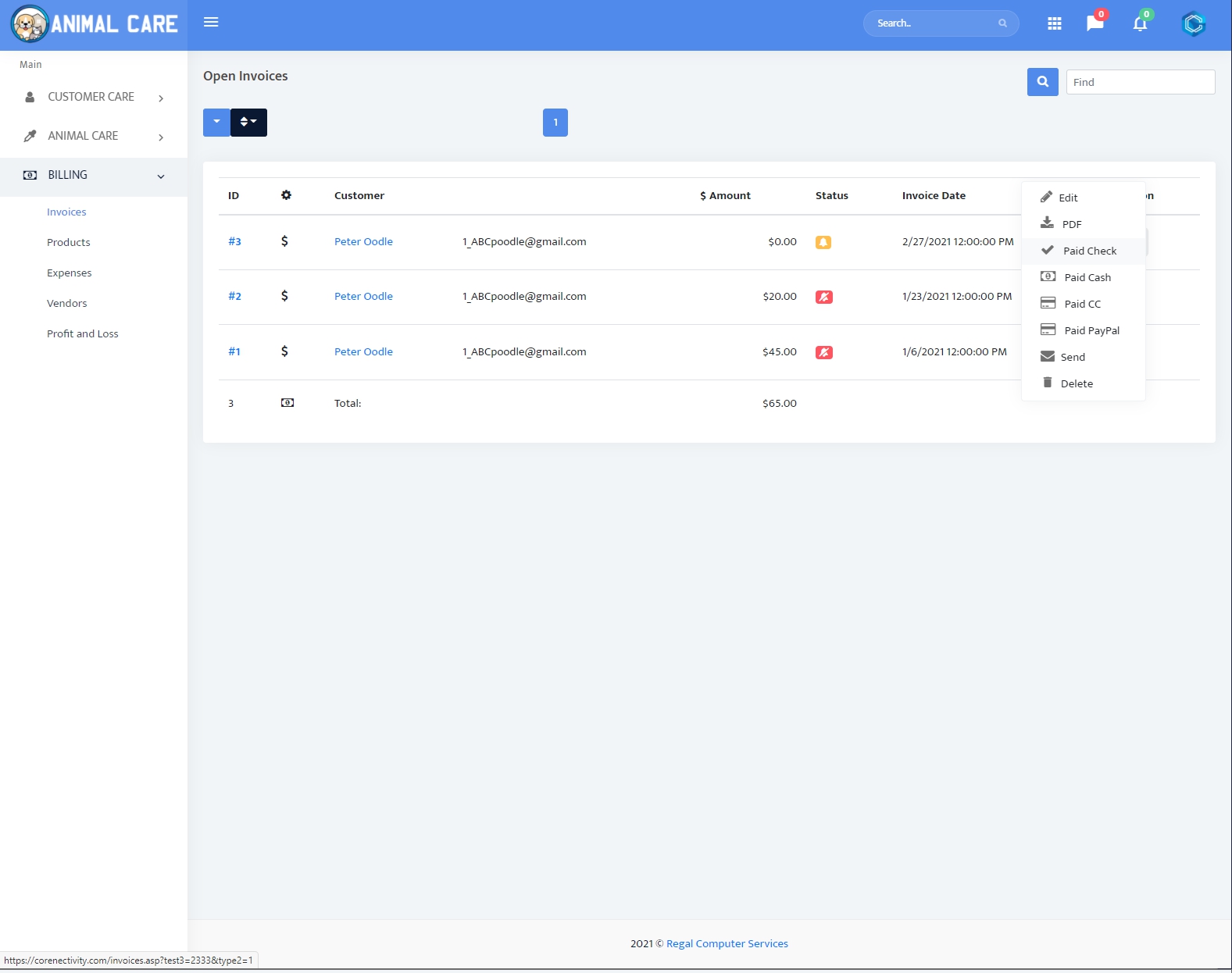 Prev: Pet Management
Back